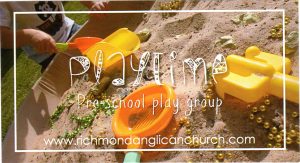 Playtime is a friendly meeting place for mums and carers to come with their under 5's.
Morning tea, plenty of age-appropriate toys, indoor and outdoor spaces, crafts, songs and stories are there for all to enjoy.
Christian women from the Church run this group with a view to sharing the good news about Jesus to those who are interested and praying for anyone in need.
Please bring morning tea for your children and a $2.00 donation each week to pay for craft materials, tea, coffee and books for birthdays.
Meeting at 9:30am – 11:30am on Tuesdays during the school term, Playtime provides a friendly social time for both the kids and adults, and includes Bible story time, crafts, games, music as well as free play.
This term we will be looking at the Creation of the world in Genesis 1 & 2, and at everything God has made.
Contact Keryn below for more information, or find us on Facebook