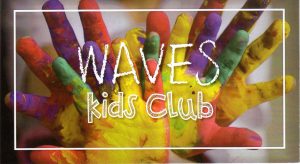 WAVES (Wild And Very Exciting Stuff) Kids Club meets on Friday Nights at 6:30 during School term.
Craft | Singing | Games | Bible Talks | Bible Studies | Prayer | Movies
Click here to view the program for 2020 Term 4
A great night for any students in years 3-6 at school. Waves runs every Friday night of the school term, 6:30 - 8:30.
Regular nights include games, craft, music, a Bible talk, year-group time and an awesome supper. Feature nights are scattered throughout the school term, with fun specials like WAVES Kitchen Rules, Massive Games Nights, Movie Nights, Water Fun Nights and more.
Also features TRAKK (The Richmond Anglican Kids Club), a hugely popular week long holiday program in the July school holidays.
Contact Kathleen Bradley for more information